SUSTAINABILITY
at steve madden
Leveraging the power of fashion to be a global force for good.
LET'S GET REAL
At Steve Madden, we want to leverage the power of fashion to be a global force for good. Our vision is to provide stylish individuals the opportunity to be bold and inspiring in expressing their individuality, while caring for others, our planet and future. But let's get real. We still have a long way to go. We are committed to take our responsibility and make our mark, becoming more sustainable with every step. We want to uncover, minimize and eliminate our impact. With this goal in mind, we've identified four key areas where we will focus our efforts on: equality, inclusivity, environment and waste.
THINK ABOUT YOU
At Steve Madden, we stand for equality. From day one, we have used the power of fashion to promote equality, individuality and inclusivity. No matter who you are or where you come from, we are all equal. This is true for our customers, our partners, our employees, but also for everyone working in our global supply chain.
Everyone working for Steve Madden, directly or indirectly should be free from discrimination, child labour and forced labour. Everyone should have a safe and healthy working environment.
MAKE FOR ALL
Sustainable fashion should be accessible for all, regardless of size, shape or income. We want to offer responsible and fashionable choices for everyone, democratizing sustainable fashion.
CHANGE THE GAME
We'll always make fashion, but we want to do this in the best possible way for each other, our planet and future.
Taking responsibility for our impact starts with being honest: where do we stand today, what needs to change? We need to become fully aware of our impact so we can minimize it. In order to, eventually, give back to the environment and society.
We have to refresh how we design, make and consume fashion. We'll be looking at our materials and products, how they're made, packed and transported. Innovation and smart solutions will offer an essential alternative to traditional methods.
To tackle climate change, we need to track our impact and improvements. Therefore, these smart solutions need to be measurable, science-based and ever evolving, reacting to the changing environment.
KICK THE WASTE
We're a fast fashion brand; we love trends, and this will never change. In the future we want to continue reacting to new trends as fast as possible while simultaneously taking responsibility for our products.
Therefore, we need to rethink, redesign and change how we operate. To reduce our waste and lower our impact on the environment we make the move towards circularity. We're motivated to implement circular design principles into our production processes and keep our products in use for as long as possible through take-back, preloved and repair programs.
PACKAGING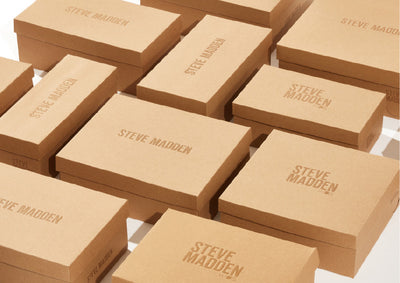 PACKAGING
In Spring 2020, Steve Madden brand shoe boxes changed to 100% recyclable boxes made of 90% post-consumer waste and 10% virgin pulp farmed from sustainably managed forests. The shoe box incorporates natural dyes and adhesives exclusively with no chemical finish. The tissue paper is 99% post-consumer waste, 1% virgin pulp, and printed with plant-based ink.
LEATHER WORKING GROUP
LEATHER WORKING GROUP
We joined the Leather Working Group to support more environmentally responsible leather manufacturing.
The Leather Working Group aims to improve the leather manufacturing industry by creating alignment on environmental priorities, bringing visibility to best practices, and providing suggested guidelines for continual improvement.
Please visit www.leatherworkinggroup.com to get more detailed info about the Leather Working Group.
GLOBAL RECYCLING STANDARD (GRS)
GLOBAL RECYCLING STANDARD (GRS)
Steve Madden Europe is Global Recycling Standard certified. Products certified to the Global Recycled Standard (GRS) contain recycled material that has been independently verified at each stage of the supply chain, from the recycler to the final product.
In addition, certified organizations have met social, environmental, and chemical requirements at each stage of the supply chain. Only the products which are covered by a valid transaction certificate are GRS certified.